Royal Enfield is on a roll. They recently unveiled the Super Meteor 650 which is the third motorcycle to use the tractable 648cc parallel-twin engine as its heart. Back in 2018, when the 650-twin came out we were well aware that the engine was flexible enough to be slapped on a plethora of body styles. While the cruiser is out, RE is also extensively working on a scrambler.
Although it will take a little more time to launch, Enfield gave us a glimpse of what to expect from the Scrambler, in the form of two custom builds. In collaboration with Bikerbnb (an adventure tour organizer from the UK) and Harris Performance (RE's in-house performance division), RE has built two purpose-built "Highland Scramblers" based on INT650s.
The suspension, brakes, tires and even the riding position have been tweaked to take on roads less traveled. With lots of custom-built elements and a stunning visual makeover, Bikerbnb uses these two scramblers to explore the great unknown. And we're particularly interested in these builds because of Royal Enfield's involvement.
Royal Enfield has teamed up with adventure tour operators – Bikerbnb – to create two purpose-built "Highland Scramblers" from the INT650; They also give us hints about what to expect next!
Two INT650-based scramblers to explore the Scottish Highlands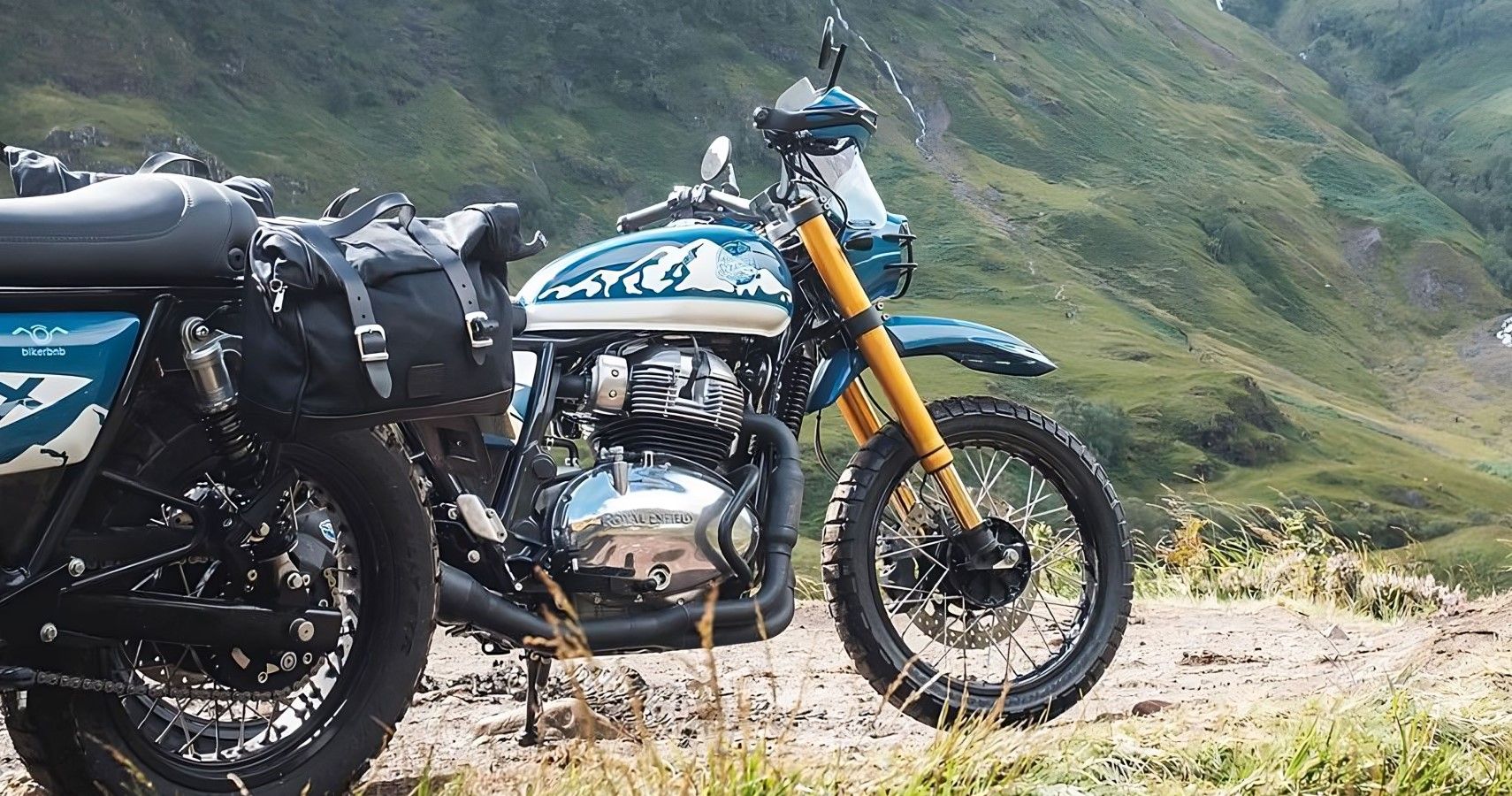 These two great looking Royal Enfield Scramblers have been custom-built to be go-anywhere machines. More specifically, these stylish scramblers have been modified to conquer the trails and roads of the beautiful Scottish Highlands.
Both machines are based on the Royal Enfield INT650 (known worldwide as the Interceptor 650), currently one of the best and most affordable parallel-twin-engined retro-vibing motorcycles you can buy in America. be
Major suspension, brake, and tire upgrades to take a beating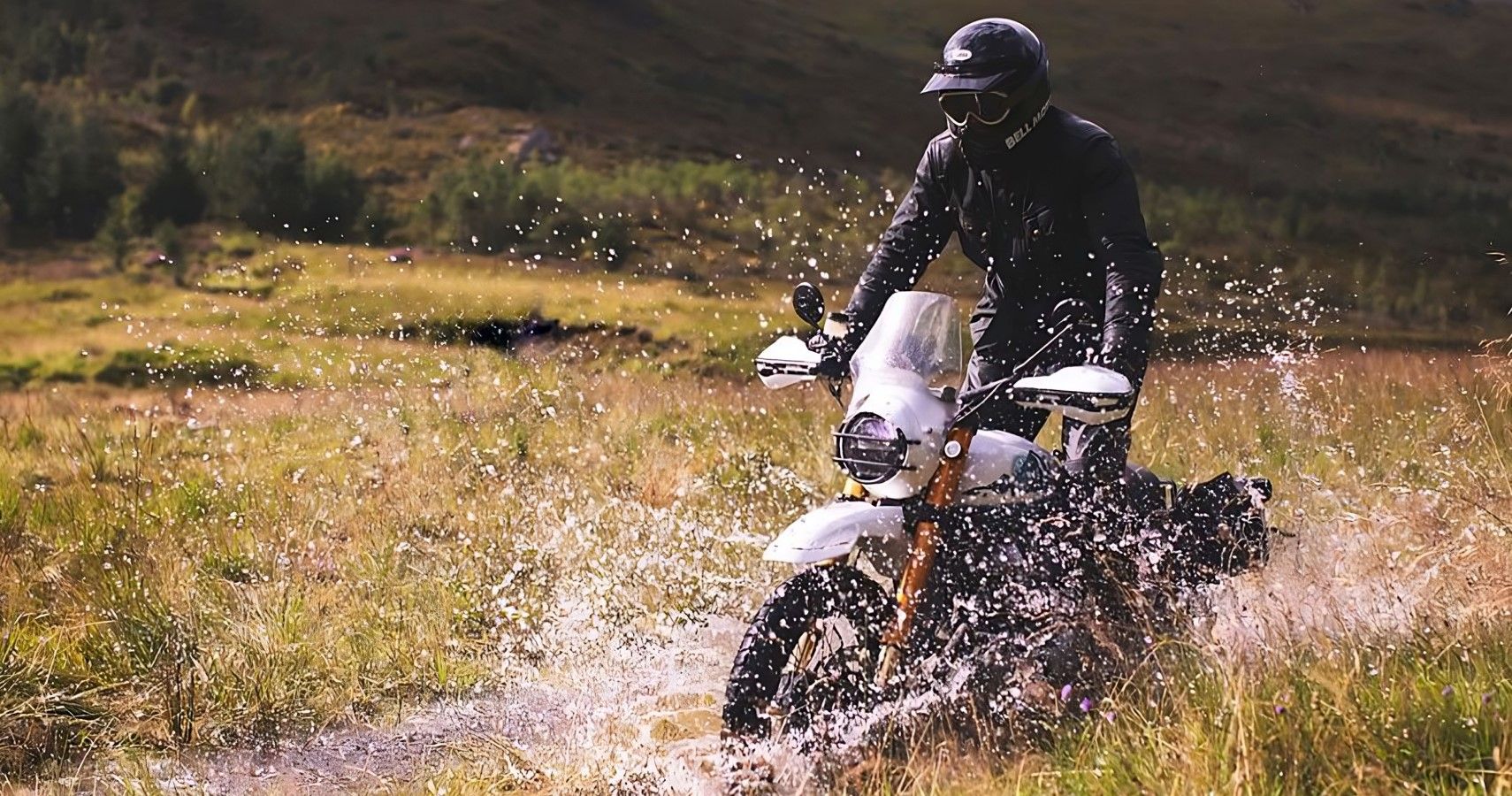 These scramblers have been modified in both style and purpose. Royal Enfield and Bikerbnb went deep into the details to fine tune the machine and its various custom components and prepare it for the roads less traveled. The most significant upgrade comes in the form of an Ohlins suspension setup at both ends.
The front gets an upside-down unit and the rear continues with a twin-shock setup. Harris Performance tuned and re-valved the suspension layout with a set of custom yokes to make gliding through water bodies and rough patches a breeze.
The Harris gang also added in a custom off-set headstock bearing cup to increase the rack angle. A custom front spindle bushing was also added to reduce the trail angle. The original 18-inch wheels have been replaced with a set of 19/17-inch Hagen stainless steel units for the front and rear respectively. Pirelli Rally STR tires also boost rider confidence. Scrabblers also get good biting power thanks to Brembo brakes.
Related: 8 Reasons Why We Love the Royal Enfield Bullet (2 Reasons Why We'll Never Buy One)
Highlanders get a comfortable layout for a long time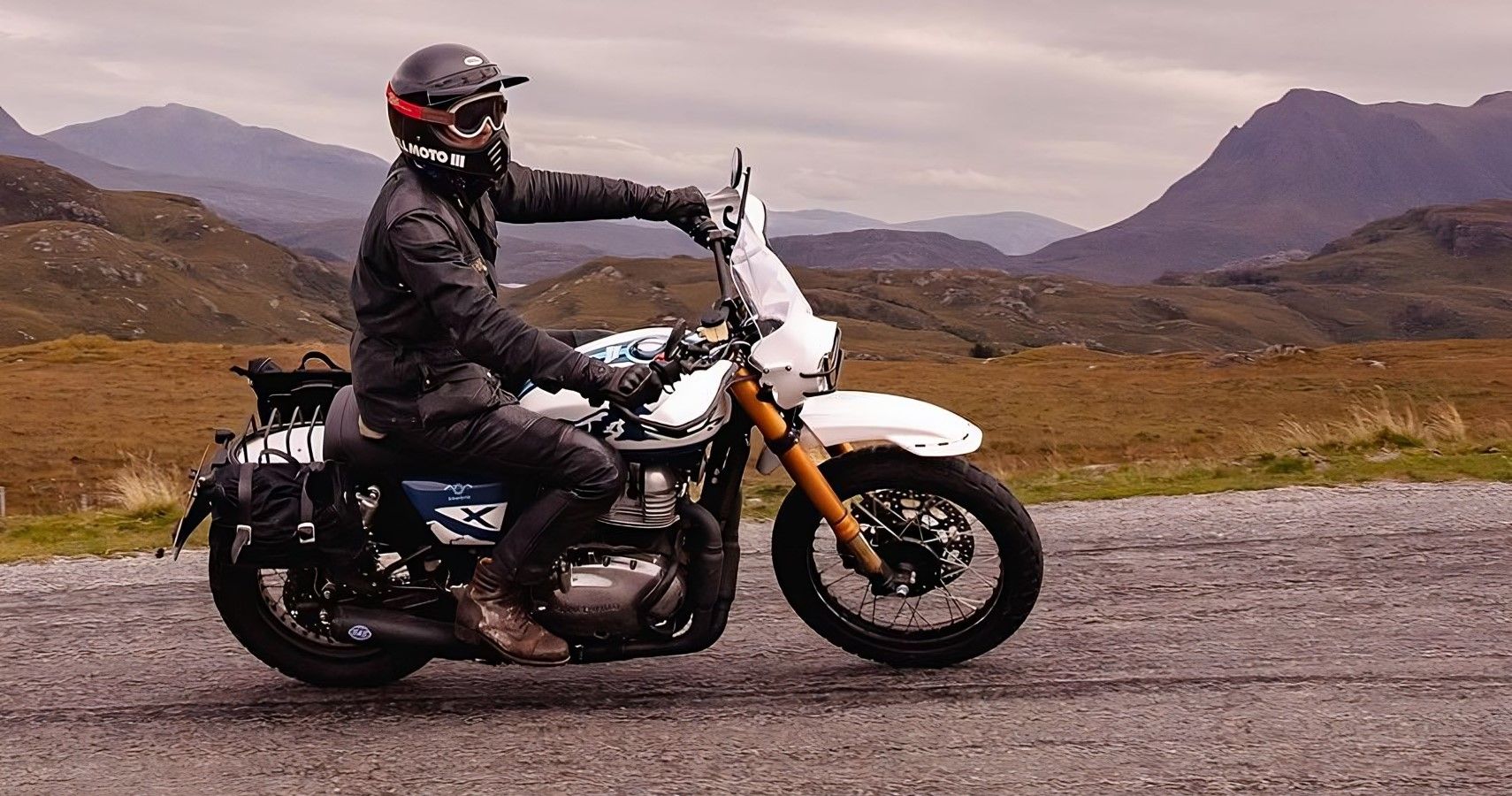 At first glance, the Bikerbnb Scrambler is similar in design to the stock INT650. But these have been modified ever so slightly to provide a more comfortable riding stance, both on and off the road.
The tank is slightly pushed back to increase the steering angle clearance of the Highland Scramblers. The handler bar has been replaced with a set of high-rise ProTaper EVO flat track units. These handlebars are extended forward to the rider using Harris Performance Risers.
Couple that with a custom-made gel seat from Tom Hurley, these Scramblers can be your perfect off-road companion for long trips. Elevating its touring credentials is a new luggage rack with a set of saddlebags from Longride.
"Highland Scramblers" gets a stunning visual makeover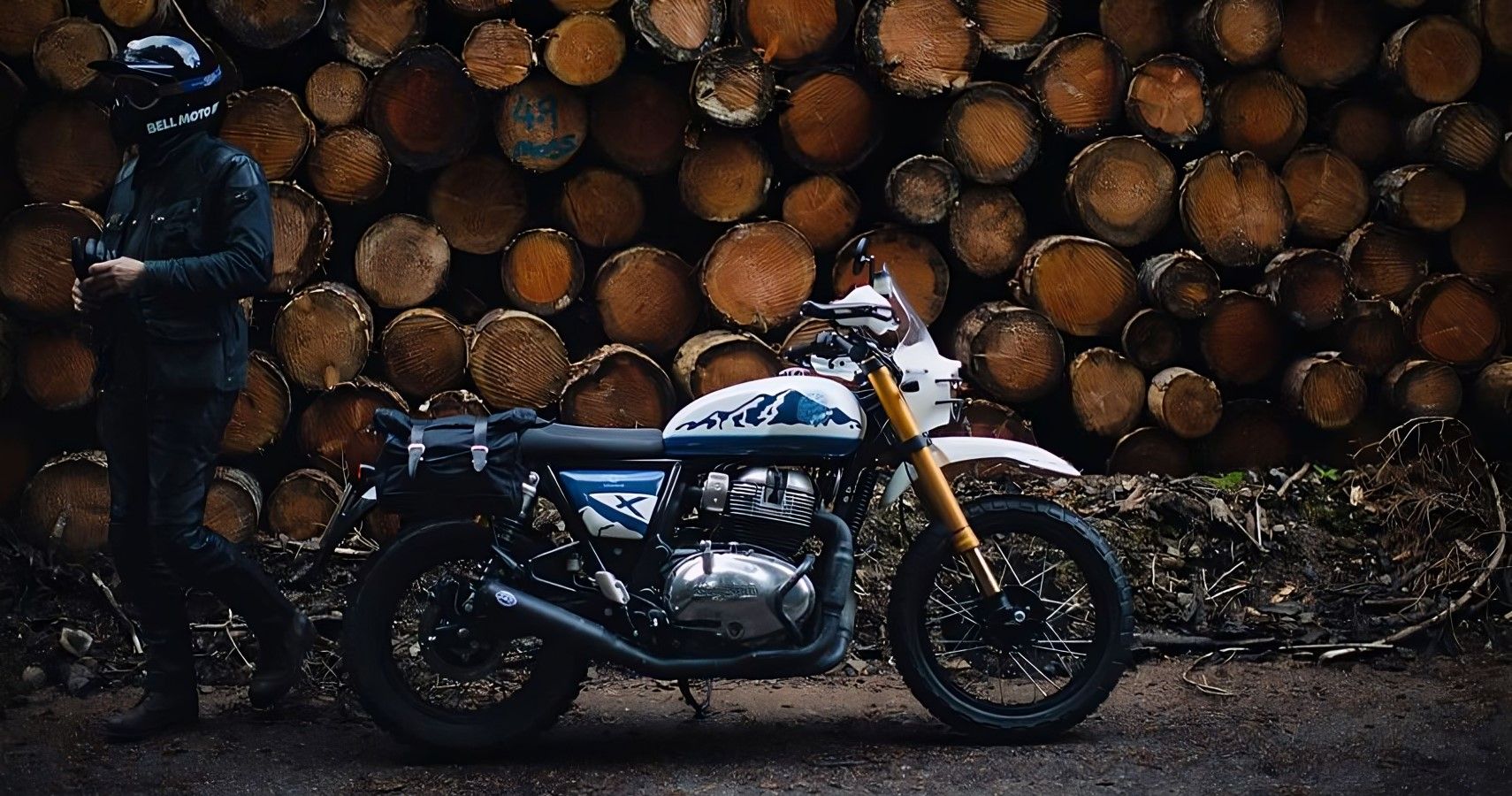 These custom scramblers have a unique visual appeal of being aggressive and quiet. The aggressiveness is all thanks to its high stance and knobby tires. It is further enhanced with a custom andro-style front fender. Other clever off-the-shelf parts also add to its custom appeal such as the Royal Enfield Himalayan windshield, and the Touring rearview mirror from Royal Enfield's own catalogue.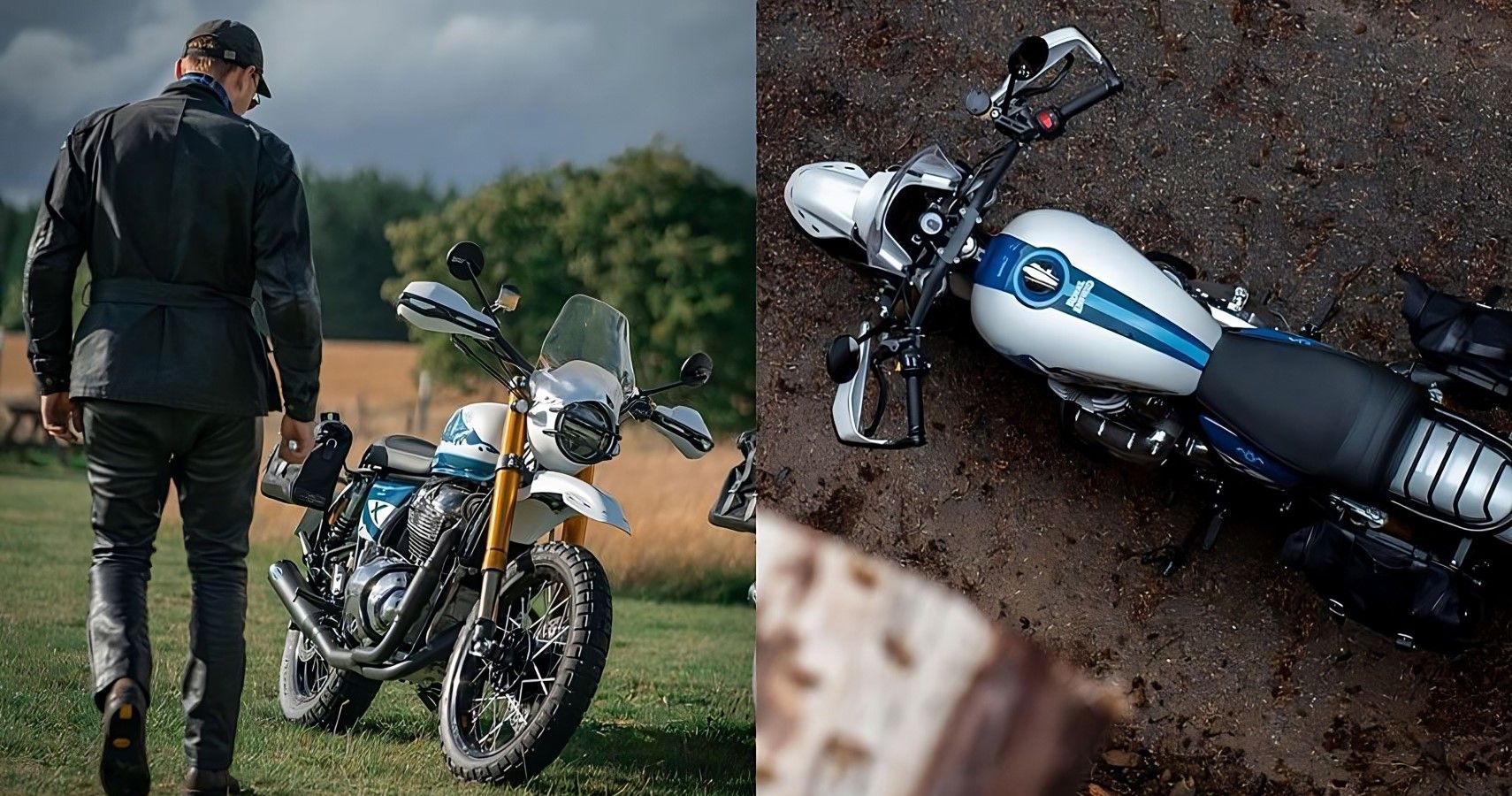 The headlight assembly has also been replaced with a Koso Thunderbolt LED unit encased in a custom 3D-printed enclosure that gets a handcrafted grille. The motorcycles are painted in a calm shade of white, covered in various blue-and-white shades. Most mechanical parts are blackened using a Cerakote coating.
These off-road-ready INT650s pack clever electronics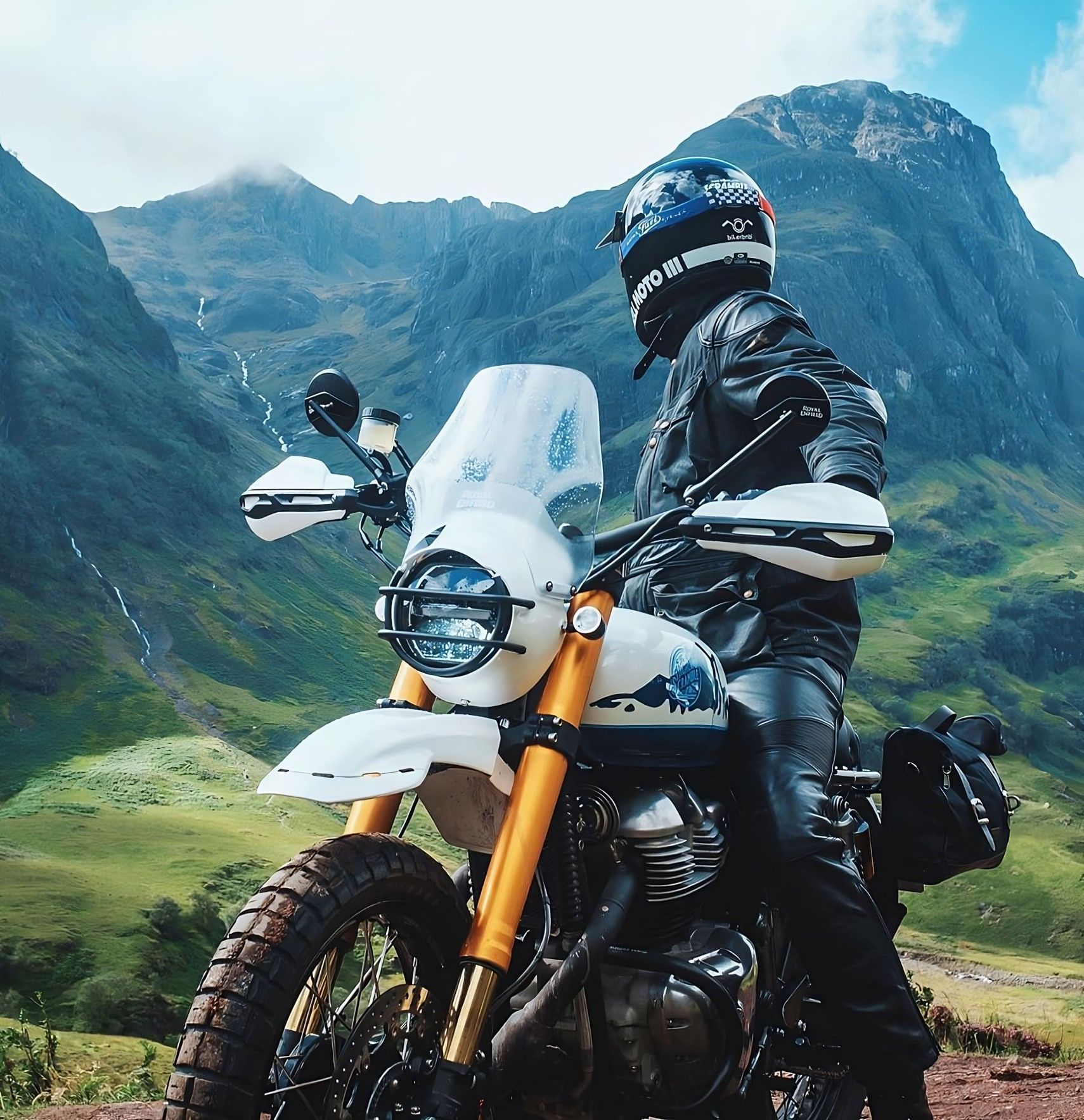 While most of the electronics are untouched, Royal Enfield has added goodies in a pinch. The dual-pot analog instrument cluster has been swapped for a compact digital Motogadget unit. And there are no physical keys for these bikes.
Instead, RE equipped them with RFID fobs from Motogadget. Apart from the headlight, the turn signals have also been changed for a cool set from Kellerman. The rear turn signal doubles as taillights.
Related: This Modified Royal Enfield Continental GT 650 Is Awesome and Ready for the Racetrack
Subtle performance tweaks thanks to the S&S cycle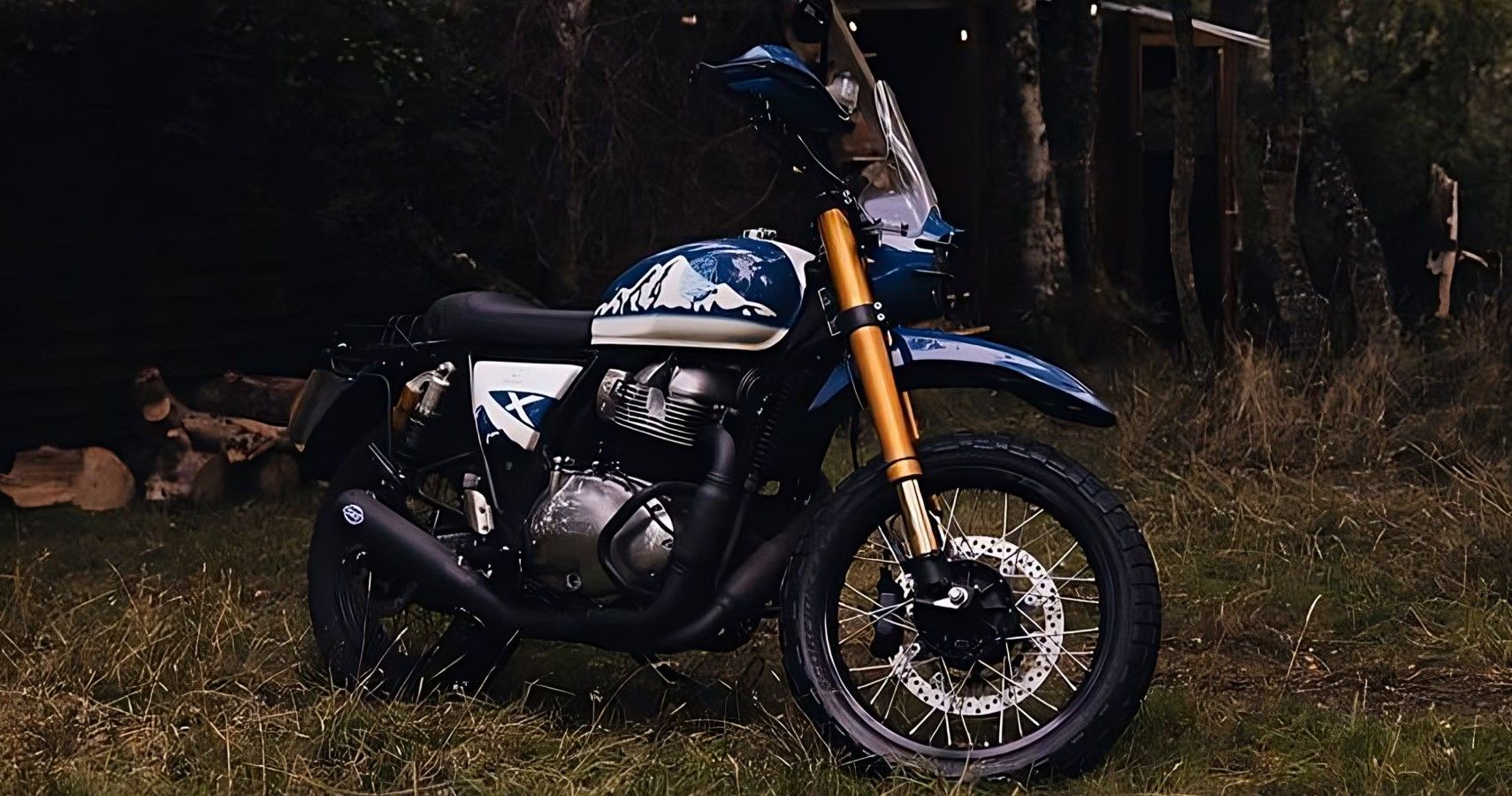 The only significant change on the performance front is very subtle and is due to the 2-into-1 S&S cycle's exhaust system. This helps shave a few pounds off the stock dual exhaust setup and thus helps make these modified INT650s faster. The air-and-oil-cooled 648cc twin-cylinder engine continues to produce 47 hp and 38 lb-ft of torque.
The Highland INT650 Scrambler gives us a taste of the future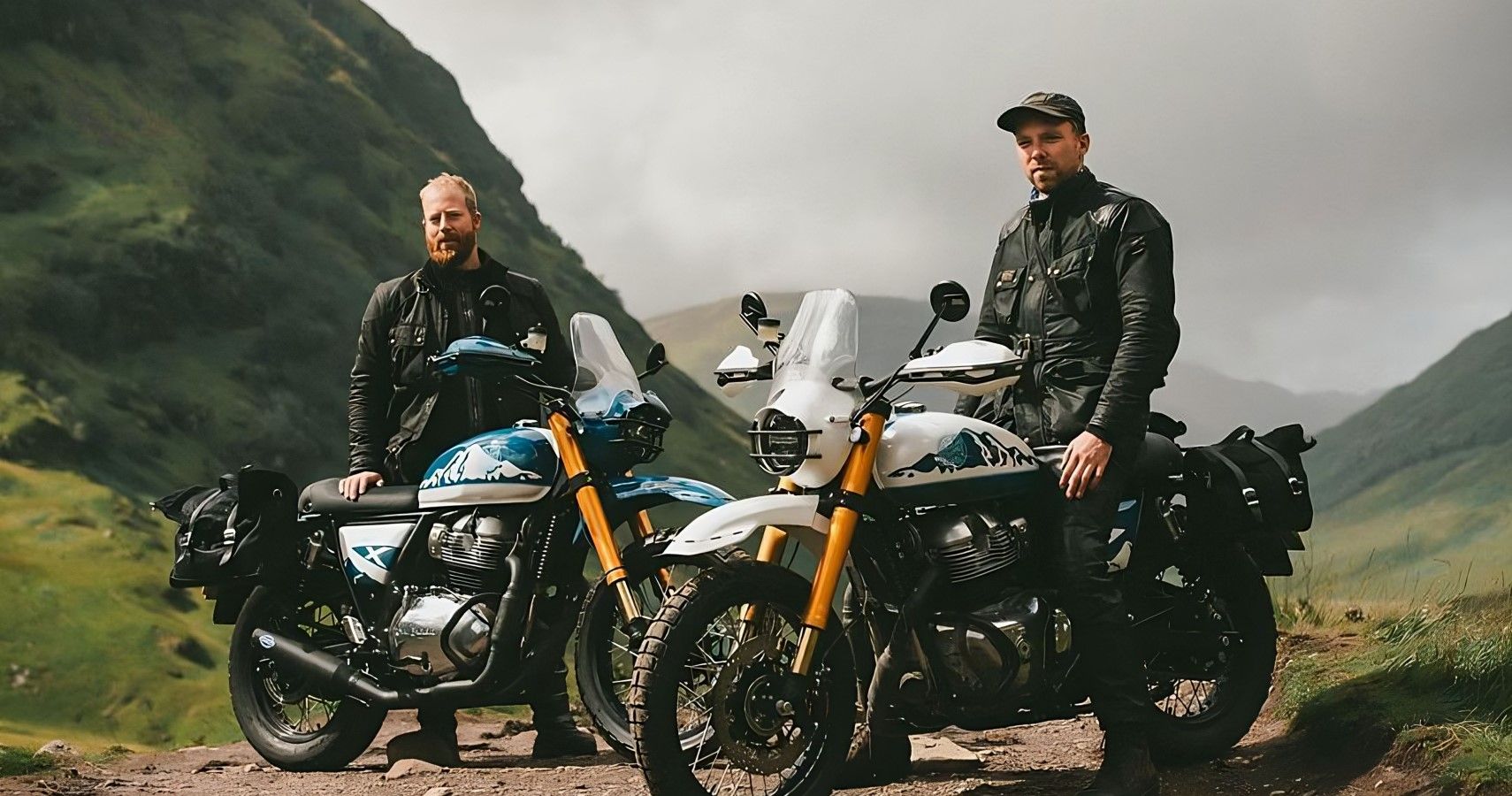 These INT650-based scramblers intrigue us as they give us a taste of what's next from Royal Enfield. The motorcycle maker has plenty of new bike lines lined up for the next few years, and a Scrambler with the INT650's parallel-twin engine is high on that list. This custom project in collaboration with Bikerbnb could be RE's secret way of testing their future scramblers!
Sources: Royal Enfield Europe, BikerBnb,