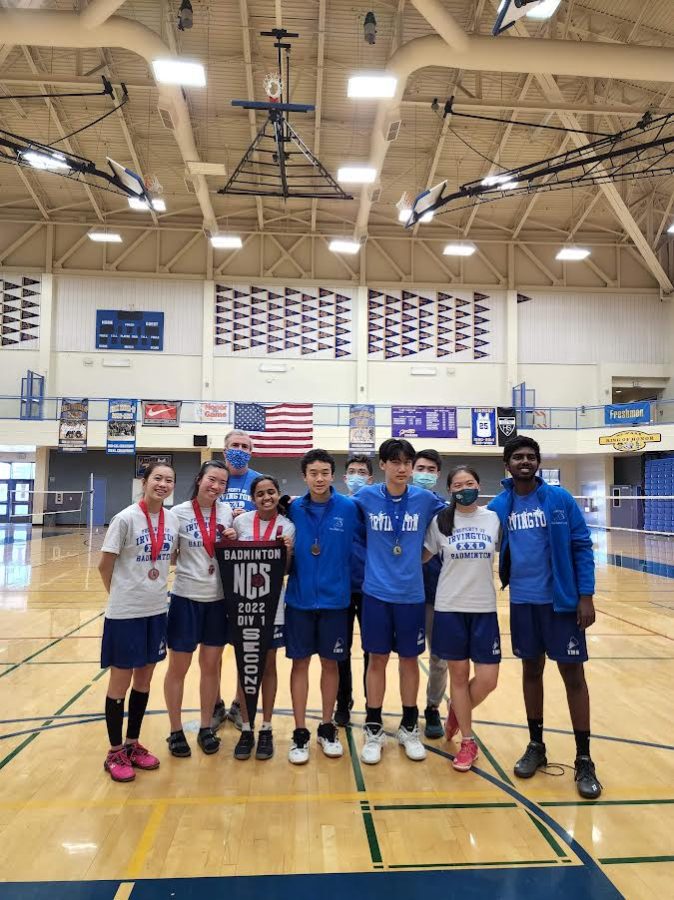 Despite several setbacks, the Irvington badminton team completed another successful season, winning all but two events.
Throughout the season, the players pushed themselves to continually improve. "We're always looking to be better and improve and try our best," Coach Strout said. "Until you're perfect, there's always things to work on." At the collegiate level, players worked on putting accuracy and the quality of each shot, attending three practices a week and tournaments twice a week. The team also faced challenges returning from a year of online training, which made badminton tournaments impossible. Some players had to adjust after not playing badminton for a long time, while others had not yet played a full season with the team. "But when we did all the follow-up exercises and went to every open gym, people stood up," explained Ritika Umapathi (11). Although the COVID guidelines affected the size of the team, the players were able to adapt quickly and perform well in tournaments, with teammates cheering them on from the sidelines.
"In school badminton, it's not what we're made to do, it's what we want to do, and from that perspective, if we wanted to get better, it had to be by our will," Chenyi Zhao (12) explained. "No one pushes us but ourselves."
Players on the team bonded over the year, helping to boost morale at tournaments. Near the end of the season, the team held senior night with the underclassmen planning celebrations for the graduating seniors. The players brought snacks, posters and key chains for the thirteen seniors, in addition to planning a graduation walk and informal speeches about badminton and their experiences in general. "When all the captains had few performances […], I started to cry while talking. "Right after, Coach Strout was standing next to me and crying as he spoke," Zhao said. The team also had bonding events, such as going out to dinner together, creating a supportive environment that made practice more enjoyable. "You're working out with your classmates and having fun at the same time," explained Thompson Ma (11).
Despite the challenges and obstacles presented, the Irvington badminton team had a successful run at NCS, ending their season with a victory. Now that the seniors are wrapping up their senior year after an eventful year, this year's juniors are preparing to fill the void left by their upperclassmen. "I don't know how I'm going to do it alone next year," Oumapati said. "But I'm glad that I have younger friends or people in my class that I'm very close to as well. In a way, it's nice that we can be the kind of seniors I once looked at. So I'm definitely looking forward to it." Meanwhile, seniors also have plans to continue playing badminton in college or as a recreational hobby. "I hope to visit the IHS badminton team next year when I come back and go over there from time to time," Zhao said. "College badminton also sounds really fun, so I'll probably make time for that in my schedule and continue to play when I can."