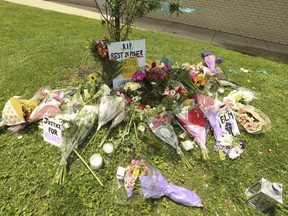 Article content
Taresh Bobby Ramroop was in a mental health crisis when he fell to his death from his North York high-rise in the presence of several police officers earlier this month.
Article content
Toronto police responded to 911 calls about objects being thrown from a balcony, including an air conditioner, and have said in a statement that Ramroop barricaded himself in a room.
Article content
Chief James Ramer said last week that this was not a situation where a mobile emergency response team would be deployed because "increased risk of harm."
Now Ramroop's devastated family wants answers.
This is exactly the tragic outcome that mental health advocates and crisis workers in this city are trying to prevent.
And it's an issue addressed in a new documentary from award-winning filmmaker Luke Galati called When we reach out, who should respond?
The film asks: Who should be the first responders for crisis calls when people are experiencing mental health issues in the GTA?
Article content
Galatis' film opens with his own bipolar disorder a few years ago and his mother's call for help as he ran down the middle of Danforth Ave. The police responded and Galati was bundled off in an ambulance, but not before hearing his mother thank the officers. for not shooting him.
The film focuses on incidents familiar to most people in Toronto: the deaths of Ejaz Choudry, 62, 2021, a father of four who was shot and killed by Peel police; Sammy Yatim, an 18-year-old who was killed by Toronto police on a bus in 2013; Regis Korchinski-Paquet, who died in 2020 in a confrontation with the police in his apartment.
The film features interviews with politicians, activists and crisis workers who all discuss alternative ways to respond to crisis calls.
Article content
Other issues regarding police response: Black Canadians are 20 times more likely to be killed by police; 70% of those executed by the police have mental health or addiction problems.
And for many in need, the uniform itself and the armed status of the officers creates an immediate problem.
Toronto Police are releasing seven years of mental health and crisis data

WARMINGTON: No such thing as a routine police call as two more cops are killed

GOLDSTEIN: Mental illness is the cause of most fatal encounters with police

OK's executive board plans to send an emergency team to an emergency call
When we reach, who should respond makes it clear that most police officers are not trained for this type of work and have limited resources in such situations.
Article content
After Yatim's death, Frank Iacobucci, a former Supreme Court Justice of Canada, wrote a report on how police interact with people in crisis and presented 84 recommendations to prevent deaths.
The police fully supported Iacobucci and his recommendations.
Iacobucci is interviewed in When we reach, who should respond and says in the film that his greatest disappointment in the process of submitting the proposals is that the Minister of Health did not participate.
For this viewer, the most interesting interview in the film is with Chelsea Swift, an expat from Eugene, Oregon, who works with a group called Cahoots. Her city sends in a crisis worker and a doctor during a mental health crisis – with no restraints or weapons; in 32 years no one has been seriously injured.
Article content
"There are no injuries because we show up unarmed," says Swift. "We are not bringing punitive force.
Her city receives 24,000 calls a year. Toronto gets about 33,000.
When we reach out, who should answer, is a hopeful film and features an interview with Denise Campbell, Director of Community Development for the City of Toronto. She explains the creation of a response team and how the city council is fully on board.
In March, Mayor John Tory announced the launch of this alternative model of crisis response: the Toronto Community Crisis Service (TCCS), a community-led solution for responding to mental health calls and wellness. The focus is on harm reduction and the teams work with community partners such as the Gerstein Crisis Center.
Article content
Two more pilot projects were added in July. TCCS underscores the city's commitment to treating mental health crises as a public health issue, not a public safety issue. Now teams work in four areas of the city where they are most needed; data from the first months of the pilot project are promising.
A full assessment will be ready for City Council to review in October 2023.
"Change is possible," Galati asserts in his film. "Progress is possible."
When we reach out, who should respond? Is the closing night film for the Toronto Rendezvous With Madness Film Festival on November 5th at the CAMH Theatre, 1025 Queen W.
The film is also streaming now through November 6th. Check the Rendezvous With Madness website.
lbraun@postmedia.com